OEM Rice Husk Cups
Ecomagicware ®️

China

14 days

14 days / 20' GP
1. Reusable  and biodegradable.    
2.  Ecomagicware of products are Non-toxicity.    
3. Minimum Order quantity made from Ecomagicware is  200 Pcs.       
4. The tableware can be heated in microwave and washed in the dishwasher.       
5. The  rice husk tableware and coffee cups are biodegradable within 2- 3 years. 
6. The package paper box is biodegradable.
7. BPA Free, Melamine free
OEM Rice Husk Cups
The rice husk is also known as rice hulls, the natural hull of rice grain, plant fiber have many significant advatnages such as low cost, light weight, non-toxicity. So far, rice husk is still limited as fuel for cooking in rural area. Recently, rice husks developed into a raw materilal to produce ash known as rice husk ash (RHA). After the chemical treatment, they are utilized in producing the rice husk coffee cups and tableware, which are biodegradable within 2 - 3 years. Ecomagicware make the sustainable and recyclable rice husk mugs and tableware, also do the OEM rice husk tableware. The OEM biodegradable tableware have many tableware sets what you need the size and pattern of rice husk cups or mugs from Ecomagicware.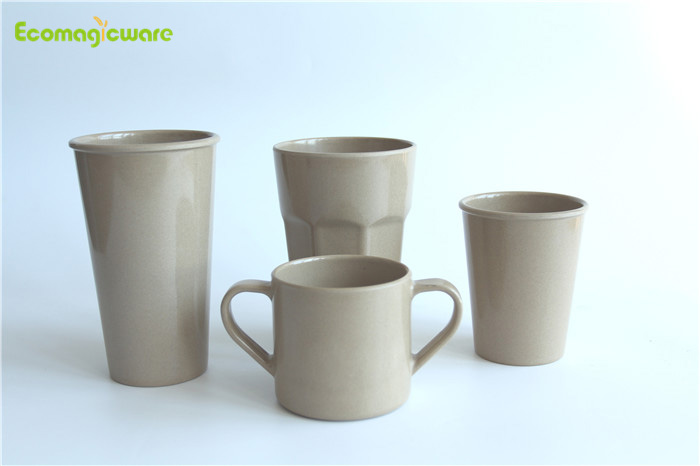 Eco friendly rice husk products

BPA Free, Melamine free

Microwave safe

Dishwasher safe

Reusable

Biodegradable within 2 - 3 years

Temperature tolerrance between -30 ℃ ~ 120 ℃
The color of OEM Biodegradable tableware is rice husk natural color, Ecomagicware could make the colorful cups or mugs which you need the size, pattern and quantity.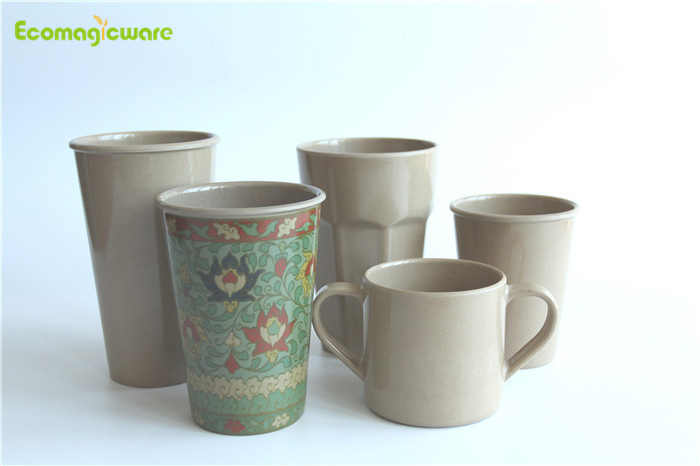 FAQ:
Can you place plant fiber and rice husks products in the dishwasher?
Certainly. They could be place in the dishwasher and cleans up really nicely. You make them last for year if you do washing in the sink and treat it well.
The rise of Ecomagicware
Thanks for the public demands for reducing waste and building a sustainable ecosystem. We' re going green and taking care of the earth. Making a truly " eco friendly " or " environmental friendly " prducts is the goal of Ecomagicware, which make an effort to reduce the waste, reuse the plant fiber and recycle the tableware and cups.
Being environmental friendly means having a lifestyle that are better for the environment. The products of Ecomagicware come from plant fiber, we use it again before being waste. The reusable rice husk will be biodegradable in 2 years, and bamboo, corn starch or other plant fibers are gone in 2 or 3 years. The plant fiber tableware and cups have been the alternatives to the plastic, glass and porcelain. The data from the tests is that one glass bottle will be biodegradable more than 1 million years, one plastic bottle has been gone in 450 years.
Ecomagicware make the sustainable and recyclable plant fiber products, the rice husk and plant fiber cups which take away tea, coffee or hot chocolate replacing the disposable coffee cups. Reduce the waste and reuse it again if he plant fiber and rice husk tableware replace the glass or plastic tableware. Being biodegradable without any pollution if the plant fiber tableware and rice husk cups are broken or garbage.
Eco friendly, we' re going green and taking care of the earth.