OEM Rice Husk Chopping Board
Ecomagicware ®️

China

14 days

14 days / 20' GP
1. Natural Rice husk material
2. Ecomagicware OEM Rice husk chopping board
3. Ecomagicware rice husk chopping board  are Non-toxicity.            
4. Minimum Order quantity of  Ecomagicware plant fiber  tableware is  1-500 Pcs.              
5. BPA Free, Melamine free       
6.  The Plant fiber tableware can be washed in the dishwasher.   
 7. Ecomagicware could be produced according to clients' demand.
OEM Rice Husk Chopping Board/ OEM Rice Husk Cutting Board
The rice husk is also known as rice ash, the natural hull of rice grain, rice husk fiber have many significant advantages such as low cost, light weight, non-toxicity. So far, rice husk is still limited as fuel for cooking in rural area. Recently, rice husks developed into a raw materilal to produce ash known as rice husk ash (RHA). After the chemical treatment, they are utilized in producing the rice husk coffee cups/mugs and tableware, which are biodegradable within 2 - 3 years. Ecomagicware make the sustainable and recyclable rice husk products, also do the OEM rice husk products.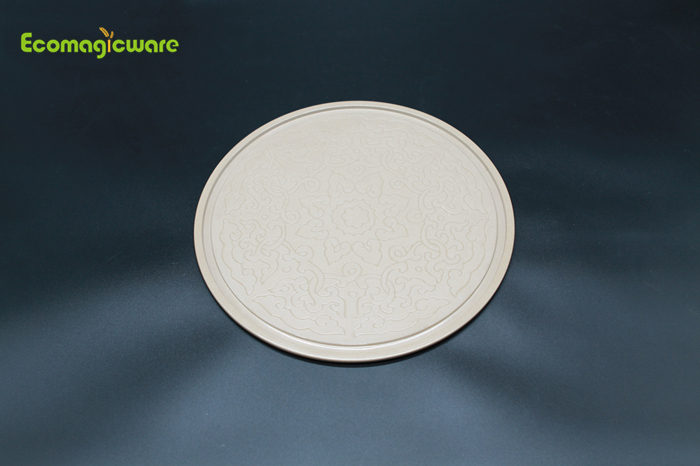 Eco friendly rice husk products

BPA Free, Melamine free

Microwave safe

Dishwasher safe

Reusable

Biodegradable within 2 - 3 years

Temperature tolerrance between -30 ℃ ~ 120 ℃

Fungus Proofing

Clean up easily









The gallagry of chopping board are round, octagon, double sized and normal ones. The size of chopping board is produced by clents' demand, the coler of rice husk products are natural color, Ecomagicware could make any kinds of chopping board which you need the pattern and size. Ecomagicware service the people who yearn for eco friendly and protect ecosystem.